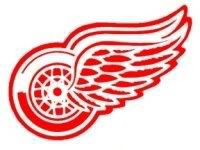 I don't know if I should do this, but before (and during) tonight's Tigers-Athletics ballgame, many of us will be watching Game 5 of the Stanley Cup Finals between the Detroit Red Wings and Pittsburgh Penguins, in which the men of the Winged Wheel might clinch a championship, so I thought I'd post an Open Thread where we can discuss the game.
For the sake of SB Nation solidarity, I'll nudge you toward Winging It in Motown and Pensburgh first. But here are a few Wings blogs worth checking out, if you're not already familiar with them:
I realize that not every Tigers fan is necessarily a Detroit sports fan, but I'm going to presume that the majority of people reading this are excited about one of the local teams being tantalizingly close to winning a title.
When the NHL resumed play for the 2005-06 season, I wrote a magazine preview on the Red Wings, and I remember there being a lot of talk that Detroit wouldn't find as much success without being able to put together a big-name, big-salaried roster. Ken Holland has obviously shown that Mike Ilitch's checkbook wasn't the only thing that made him a great general manager. Finding and developing young talent, fitting veterans around it, and hiring the right coach to make it all work is an example of team building and roster construction to learn from.
Posting something about the Wings feels a bit bandwagon-ish, since I haven't paid much attention to them throughout this season. I used to be quite a hockey fan - it's difficult not to be in this area - but admit that the sport kind of lost me with its work stoppage in 2005. However, the Wings winning the Cup in 1997 is one of my favorite moments as a sports fan, and the anticipation of another victory celebration is bringing some of those feelings back.
I'm just glad I didn't miss any Stanley Cup celebrations while in Malaysia. I love a good parade. So if you're so inclined, chat about the game here, and if you want to make it a long night, stick around for the usual Tigers talk. Go Wings!