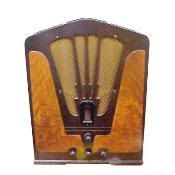 I realize I should've posted this earlier, but rumor has it that I'll be appearing on The Morning Ticket with Pat and Todd on Saginaw's FM Talk 100.5 tomorrow morning. I'm scheduled to be on the show around 7:10 a.m. EST. (I'd better get the coffee brewing early.)
With Spring Training coming in about five weeks, Pat and Todd wanted to get some baseball talk fired up, and I'm flattered they asked me to participate in the discussion. Hopefully, they'll prevent me from whining for 10 minutes about the Tigers not signing a reliever yet.
You can listen to a live stream of the show at the FM Talk 100.5 website. And if they offer a MP3 of the show or if I can somehow make a recording (and they allowed me to post it), I'll see if I can get that done. Otherwise, maybe we can do a transcript or something like that.
And fingers crossed, this could be a weekly thing. If so, I'll be sure to give a bit more advanced notice.