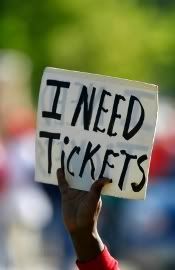 As we did last year when Tigers single-game tickets went on sale, we're opening up a thread for you to share your ticket-buying experiences. Beginning at 10 a.m. today, you had your shot.
Did you get the seats you wanted? What were the games you were determined to reserve your seats for? Or are you sitting it out, content to get tickets later on, as fan demand is way down this year?
Your 2009 Detroit Tigers schedule can be found here. The Tigers Ticket Information Center is here, and information about single game tickets is also available.
And since today is the first day of World Baseball Classic play taking place on our side of the planet, not requiring a 4 a.m. wake-up to watch, this can also be your place to discuss the performance of Team USA and Venezuela in their first-round games.
From Toronto, USA vs. Canada begins at 2 p.m. EST, while Venezuela vs. Italy starts at 8 p.m. EST. Other games played in Puerto Rico include the Dominican Republic vs. the Netherlands at 11 a.m. EST and Puerto Rico vs. Panama at 5 p.m. EST.
(As mentioned in the comments of the last post, if you need some live blog for today's USA-Canada tilt, Detroit4Lyfe will be doing that for you. I'll be trying to get home in time for the game after a matinee showing of Watchmen.)