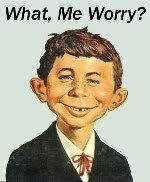 I'm a little behind on this news, but maybe that's a good thing so I didn't publish a reactionary "OMG, SHOULDER INJURY!" post when it was revealed that Joel Zumaya took a trip to Pensacola to visit Dr. James Andrews. That's a sentence you don't normally want to see, involving your team's pitcher. The anxiety is even worse, considering Zumaya's previous injury history.
However, this was merely a precautionary measure by the Tigers, as they just wanted to make sure that Zumaya's shoulder soreness was nothing more than the usual Spring Training aches and pains. Fortunately, Zumaya checked out fine and he should be back throwing on a mound by tomorrow. (A couple days' rest was necessary while dye used for the MRI exam works its way out of his shoulder.)
In other shoulder news, Jeremy Bonderman played catch for the second straight day and reported no pain or discomfort. Bondo increased his throwing distance from 60 feet to 90 feet yesterday, and said everything felt fine. The next step should be stepping onto a mound and throwing some real pitches to a catcher. If Bondo has one or two good bullpen sessions, he should be on track to make his first start of the spring.
What, us worry?