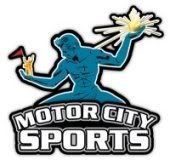 My former colleague Kevin Antcliff has revived Motor City Sports (which began as a website, then became a magazine, and is now once again a website) and started up a new site that features several features and columns per day. Some familiar names for Detroit sports fans, such as Gregg Henson and Sean Baligian, are also contributing to MCS.
Kevin asked if we could do some Q&A about the Detroit Tigers' upcoming season, which has now been posted on the MCS website. Among the things we covered were the Gary Sheffield release, the precarious nature of the pitching staff, and of course, predictions for the 2009 season. Click on over and see if I'm full of it. Chances are always strong.
I was actually a writer and columnist for the MCS magazine, and will always be grateful for the opportunity to have played professional sportswriter for about a year. My experiences covering the Tigers, gaining access to press box, field, and clubhouse all took place while I worked there. And it all happened during the 2006 season, which was definitely a fun time to be around.
Give MCS a shot, if you get a chance. They should have some exciting things in store over the next few months. I wish Kevin and crew all the best with this new venture.