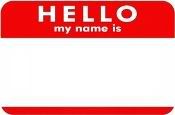 This is something I meant to do before the season started, but once the schedule got rolling, other topics and ideas took precedence. But with today's off-day, and the need for a cleansing deep breath after the last two games in Pittsburgh, I thought we might give a "Hello, My Name is... " open thread a shot.
They did this over at AZ Snakepit last year, and I've been wanting to give it a try. Besides our regular cast of commenters that developed over last season (in what practically became a support group), we've seen quite a few new additions to the BYB community over the past few months. And with the partnerships that SB Nation has developed with sites like Yahoo!, more people are finding BYB for a Detroit Tigers fix, and new names join the community each day.
So I thought we could all get to know each other a little better, if you're interested. Tell us about yourself. For example, when did you become a Tigers fan? Where are you in Michigan or around the country? What are some of your other interests? You can include as much or as little as you'd prefer.
We'll keep this in the FanPosts sidebar for a while so people can find it and check updates. I'll get things started in the comments, and hope you'll join me. Get to know your fellow BYB'ers!
(And if you want to talk baseball, don't worry - we'll have a BYOBYB Open Thread later on.)