In 2011, the Detroit Tigers acquired righthander Doug Fister at the trade deadline. At the time, it was an underwhelming move. The Cleveland Indians had struck a blockbuster deal for Ubaldo Jimenez the same day, and not many people knew who Fister was. Those who didn't look beyond his three wins and 12 losses were even less enthused.
We all know what happened next. Fister tore through the AL, posting an Alexander-esque 1.79 ERA in 11 appearances, and the Tigers won their first AL Central crown walking away. He accumulated 9.8 fWAR in 68 starts with Detroit, and his puzzling trade to Washington still irks Tigers fans to the day.
The big surprise, though, was in his evolution as a pitcher. Fister's strikeout rate went from 5.2 per nine innings in three seasons with the Mariners to 7.2 per nine innings in his two-plus seasons with the Tigers. After leaving Detroit, Fister's strikeout rate returned to its previous level, sitting at 5.4 punchouts per nine innings.
New Tigers pitcher Mike Pelfrey is not Doug Fister. But, like when Fister arrived in Detroit in 2011, Pelfrey's strikeout rate leaves a lot to be desired. He struck out 4.7 batters per nine innings last year, and has 5.1 Ks per nine for his career. Both pitchers also have a similar repertoire, throwing a sinker the majority of the time as well as a curveball, slider and splitter. Fister also throws a cutter and four-seam fastball, while Pelfrey eliminated his four-seam fastball in 2015.
Given their similarities, could we see a similar improvement from Pelfrey?
Here is a look at Fister's plate discipline numbers before and during Detroit as well as Pelfrey's career numbers.
| | | | | | | |
| --- | --- | --- | --- | --- | --- | --- |
| Player | O-Swing% | Z-Swing% | Swing% | O-Contact% | Z-Contact% | Contact% |
| Mike Pelfrey | 25.2% | 57.0% | 43.9% | 75.2% | 91.2% | 86.8% |
| Doug Fister, pre-Detroit | 28.8% | 55.2% | 43.5% | 76.7% | 91.7% | 87.3% |
| Doug Fister, Detroit | 29.4% | 56.7% | 43.4% | 66.9% | 88.4% | 81.4% |
Fister was able to induce less contact after coming to Detroit, a drop of almost 10 percent in out-of-zone contact (O-contact%), while keeping similar swing percentages. This led to more swing and misses, and more strikeouts.
Pelfrey has very similar contact percentages as Fister pre-Detroit, but opponents don't chase pitches outside the zone (O-swing%) as often as they did with Fister, even before he arrived in Motown.
What changed with Fister? Here is his pitch usage before and during his time in Detroit.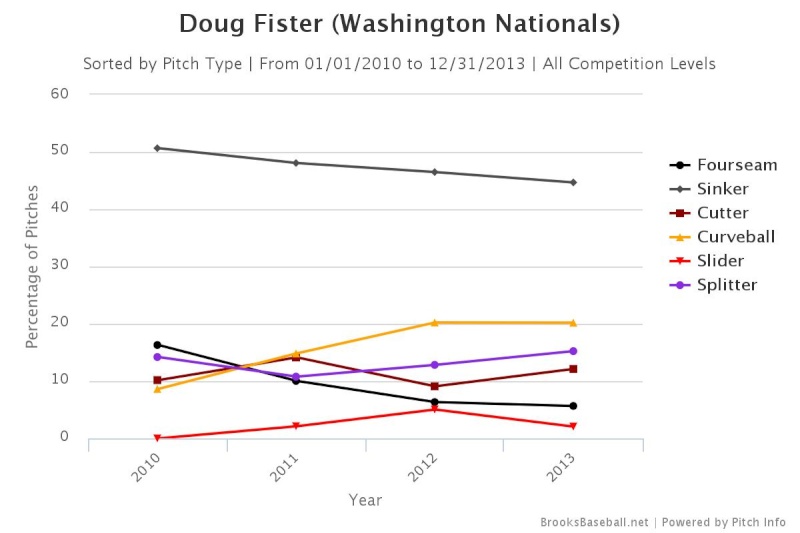 It's a subtle change, but it's there: fewer sinkers and more curveballs. This makes sense because Fister gets more whiffs on the curveball than any other pitch, and got even more after coming to Detroit. Using his curveball more often led to more swinging strikes, more strikeouts, and better overall performance.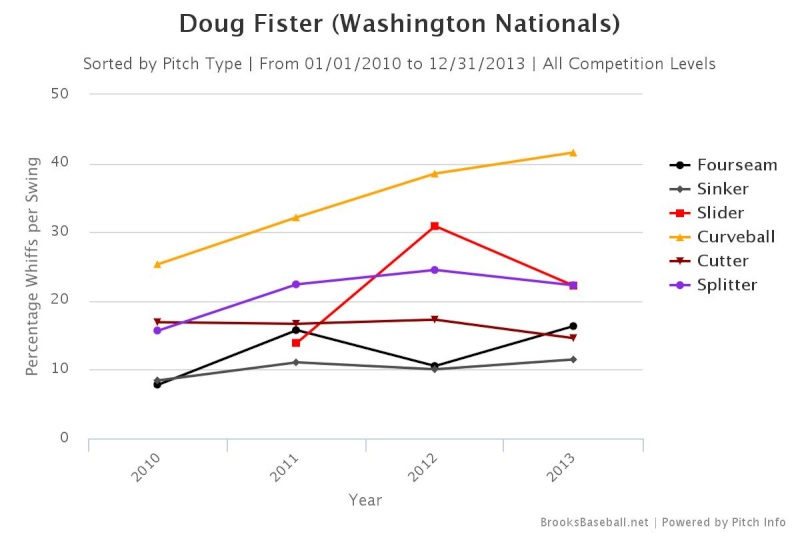 Now, here is Pelfrey's pitch usage.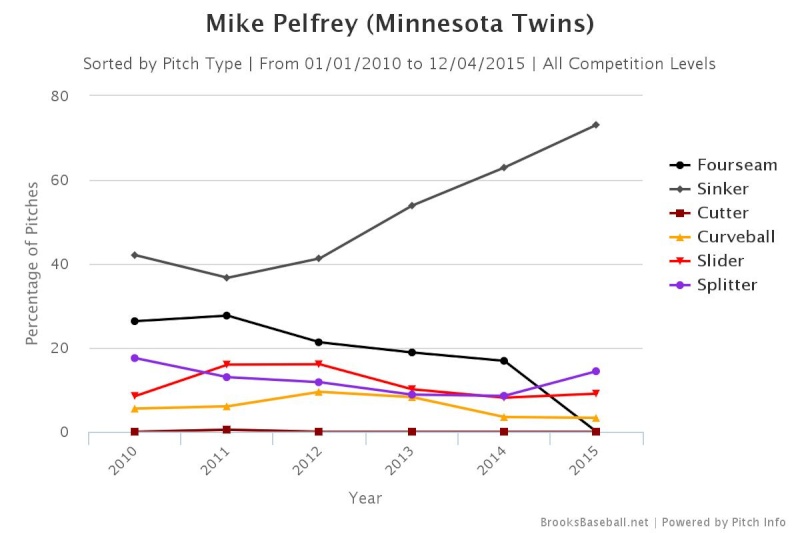 Pelfrey's sinker usage has exploded in the past few years, largely thanks to a pitch-to-contact mentality (you can blame the Minnesota Twins for that one). His sinker usage was at a career-high 73 percent in 2015, up 20 percent from his last full season in 2013.
We don't want more contact, though. We want more whiffs.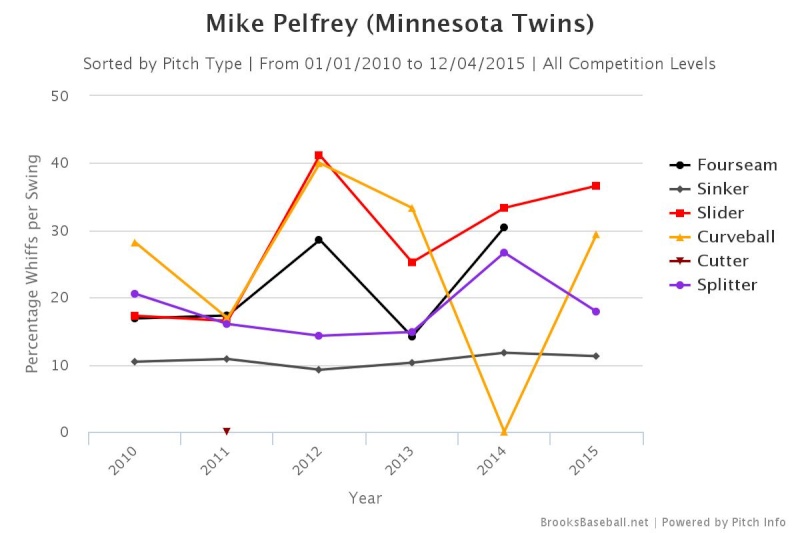 As you might expect, Pelfrey's slider generates more swinging strikes per swing than any of his other pitches. He only threw that pitch nine percent of the time in 2015, and opponents hit .321 with a .500 slugging percentage off it. However, none of the eight homers he allowed came off the slider. His splitter is his usual two-strike pitch, and has induced a fair number of whiffs per swing in the past. It also results in less damage when hitters do make contact, as its induces ground balls at over a 50 percent rate.
Make no mistake, we are not expecting Pelfrey to be Doug Fister 2.0. While there are some underlying reasons why Fister was better in Detroit, his marked improvement was still unexpected, and one that probably wouldn't happen again even if he were the one signing on the dotted line. Given the similarities between the two, however, Pelfrey's price tag becomes a bit more palatable.