On Wednesday afternoon Buck Farmer struck out seven batters in his longest outing of his short Major League career, 5 1/3 innings and 102 pitches. Still, he allowed five earned runs to score on eight hits, including a home run, and two walks.
The Indians loaded up their lineup with seven left-handed hitters but they were no match for Farmer the first time through the order. He allowed two walks but no hits, no runs, and five strikeouts, all in a row from the five through nine hitters. Then, the Indians adjusted and started teeing off Farmer's pitches. Farmer fell into a pattern and couldn't adjust.
According to Brooks Baseball, of the 102 pitches Farmer threw, 40 percent of them were four-seam fastballs and 39 percent were changeups. He was basically a two-pitch pitcher, making it easy for the Indians to sit on either pitch, not only by type but also location. Looking at the chart below, it's easy to see Farmer's gameplan: fastballs middle and inside, changeups low and away.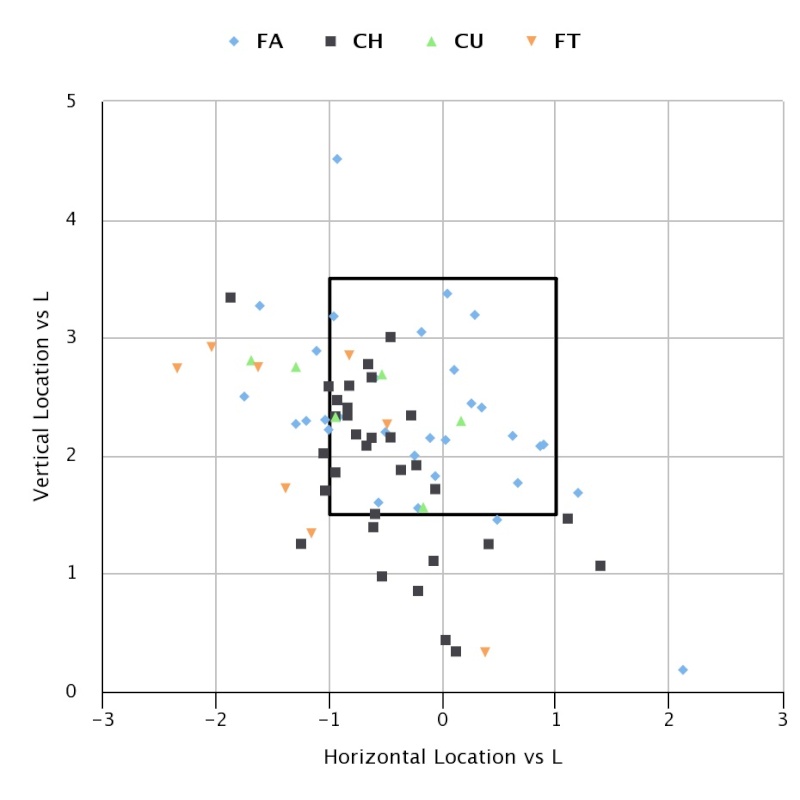 Sure there were a few sinkers and cureveballs/sliders mixed in there, but not enough to keep the Indians' hitters off balance. In his two starts this year, Farmer has thrown only 30 breaking balls and opponents have three hits off of it, including a home run for a .333 batting average against. And opponents have only swung and missed at two of them. Last year, it was a different story as he still only threw breaking balls 16 percent of the time but he got three strikeouts and only one hit off of it.
If Buck Farmer is going to become an effective starting pitcher, he's going to have to develop a third pitch or else he's destined for the bullpen. He could probably be an effective reliever right now, given his first couple of innings against the Indians. And if the Tigers' bullpen struggles continue it might not be a bad idea to convert him to a reliever right now.
However, with the trade deadline approaching, Farmer has more trade value as a starter than a reliever and with Dave Dombrowski there is always a chance someone like Farmer will get dealt.