Recently, Detroit Tigers manager Brad Ausmus stated that, except for Joakim Soria as the closer, he will not designate bullpen roles. Ausmus specifically mentioning the eighth inning, a point of contention for the past couple years. This is good for several reasons, one being that Ausmus has been heavily criticized in his bullpen usage this year. The general census among the saber community is that a relief pitcher should continue to pitch until he is tired or no longer effective, and should not come out of the game because of the inning number. Ausmus may not go to that extreme, but when he says this -- "we'll go with the pitcher that we think has the best chance to get the people out and get us through the inning in a pressure situation" -- it's a move in the right direction.
Joba Chamberlain has been the primary set-up man this year. Until lately, he had an ERA of under 2.00. However, in his last five appearances, he has allowed six earned runs to elevate his ERA to 3.15. His peripheral numbers are not quite as impressive, with an FIP of 3.75 and a SIERA of 3.60.
However, RE24 might be the best metric to show the effectiveness of a reliever since it is context dependent. It takes things like the score and pressure -- things that Ausmus alluded to -- into consideration. Currently, Chamberlain has a -3.47 RE24, meaning he's about 3.5 runs below average. Last year, Joba was on the positive side at 2.80. Ausmus is right in that a change is needed.
Looking deeper in the stats, it seems like left-handed hitters have been particularly troublesome for Chamberlain. Lefties have a .436 wOBA against Joba in 2015, compared to a .293 wOBA in 2014. What happened?
Chamberlain is primarily a fastball/slider pitcher with a curveball mixed in at times. While right-handed pitchers are only hitting his slider at a .233 clip this season, lefties have a .500 average (7-for-14) against it, including five extra base hits and two home runs. Just one year ago, left-handed hitters were only hitting .136 against Joba's slider. This could be a fluke, small sample size and whatnot, but the movement on his slider tells a different story.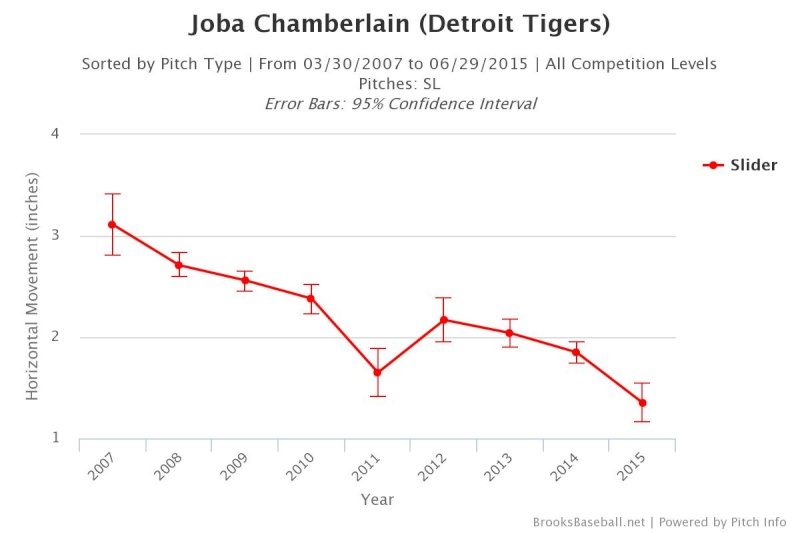 Joba Chamberlain's slider has been losing movement almost every year since he entered the majors, including a drop-off of 0.5 inches from just a year ago. If the slider doesn't, well, slide, then it becomes flat and very hittable. Opposing hitters, especially lefties, are picking up on the pitch and hammering it. I would wager that right-handed hitters will soon follow.
Ausmus has made some questionable moves when managing the Tigers, but being more flexible in the eighth inning is the right call. With Blaine Hardy pitching well and Bruce Rondon being back from the disabled list, this is a good time to let Chamberlain pitch in some low leverage situations to work on his slider and get it back to last year's level. At the very least, if Chamberlain can't get his slider back, Ausmus can limit his appearances against left-handed hitters.