Justin Verlander has struggled mightily in his four starts since returning from the disabled list. He has a 6.75 ERA, a 7.05 FIP and a 5.42 SIERA. He has also allowed six home runs, walked 10 batters and only struck out 12 in his 22 2/3 innings.
The reason for his struggles this year is that opposing hitters are teeing off of his fastball. What once was a dominating pitch for Verlander, reaching triple digits at times (late in the game to boot), is now his weakest pitch that he can only top 97 miles per hour once or twice a game. Sure, it is possible that he can be a serviceable number two or three starting pitcher with the velocity loss, but but there are a few things that he needs to work out first, command being one of them. It can be argued that he is still in Spring Training mode and his command will come back. But right now, it is not pretty.
First a visual of his velocity loss.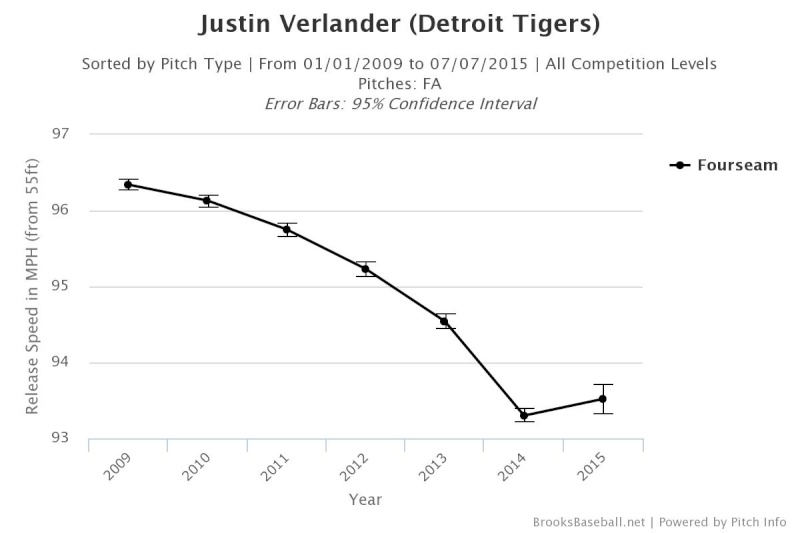 It was a gradual decline from 2009 to 2013, but then a big drop-off in 2014. He's throwing a little bit harder this year than last year, as it can be argued that he was pitching hurt last year, which affected his performance. It is doubtful that he will reach an average velocity of 95 miles per hour again, though.
The next graph shows the slugging against Verlander's fastball over the years.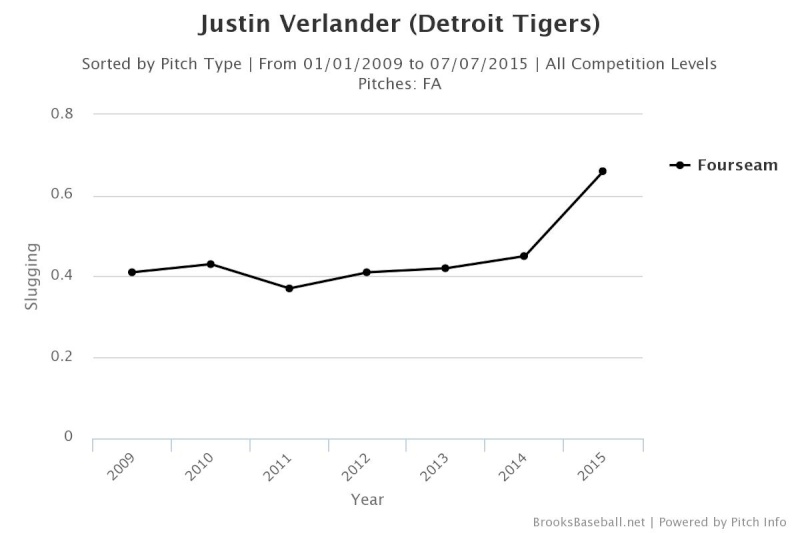 When Verlander was going good, his slugging percentage against was around .400 (and as low as .373 in 2011). However, it was up to .454 last year and is at .660 this season.
One of the reason Verlander has been getting hit hard is poor command. He is leaving the ball up in the zone and without the extra velocity to blow it passed hitters, the fastball is now getting crushed. As Baseball Savant points out, most of the home runs Verlander has allowed have been on pitches up in the strike zone.
All of these home runs are off his fastball except for the one low in the strike zone, which was a curveball.
It's hard to imagine Verlander's fastball being this bad when it was one of the best pitches in baseball for several years. Let's hope he can get his command back or else a change in approach might be needed.