Many people like to compare Justin Verlander to CC Sabathia. In their prime, both were in Cy Young races with high-velocity fastballs. They both signed big contracts, then proceeded to lose the velocity and their effectiveness while struggling with injuries.
However, there is potentially a better comparison: A.J. Burnett. While the Pirates' righthander has not had quite as glorified a career as Verlander, he had a similar repertoire and high-velocity fastball, but made a change that Verlander should consider making.
Verlander has been inconsistent over the past two seasons. This year he has three starts in which he has given up two earned runs or less, one start in which he has given up six earned runs and two starts seven earned runs. Added up, Verlander has an ERA of 6.62 in six starts this year, and that's just not good enough. One thing that has been consistent in is his fastball usage.
Below is Verlander's percentage of four-seam fastballs thrown since 2009.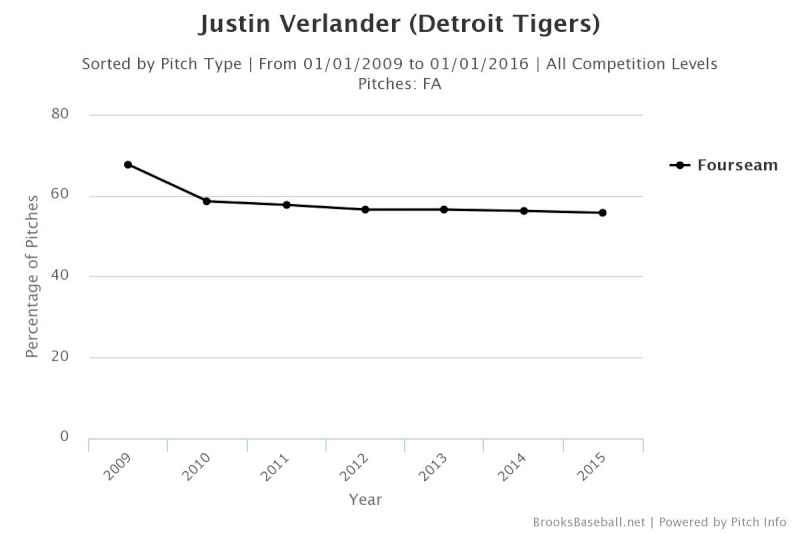 Verlander threw his four-seam fastball about 67 percent of the time in 2009, then has been very consistent, throwing it around 55-57 percent of the time from 2010-2015. Even when he has lost velocity and command of the pitch the last two years, he was still throwing it as much as when he was putting up ERAs of below 3.00. Why? Verlander also throws a changeup, a slider and a curveball, all which have been effective pitches for Verlander in the past (although his slider average is high this year, all hits against it have been singles). Here are his averages on his pitches this year.
| | | |
| --- | --- | --- |
| Pitch | AB | BAA |
| Fastball | 73 | 0.315 |
| Changeup | 15 | 0.200 |
| Slider | 20 | 0.350 |
| Curveball | 27 | 0.222 |
Now let's look at A.J. Burnett. Burnett was also a hard thrower once upon a time. From 2004 to 2007, he was throwing his four-seam fastball at about an average rate of 94-95 miles per hour. The 2010 season was when it started falling below 94 miles per hour. Here is Burnett's fastball usage through the years.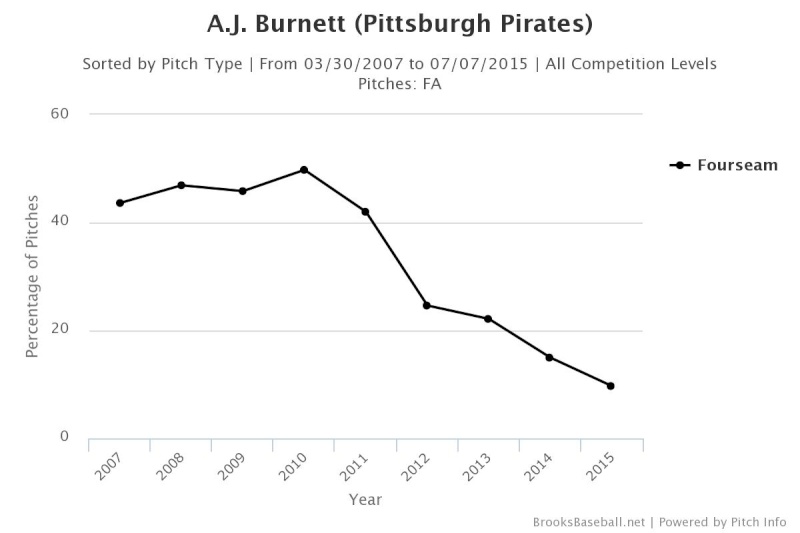 Just like with Verlander, Burnett was still throwing his four-seam fastball the majority of the time in 2010-2011 even though he was losing velocity. And he had ERAs above 5.00 both years to show for it.
Then in 2012 -- when he joined the Pittsburgh Pirates -- he only threw his four-seam fastball 24.62 percent of the time with an ERA of 3.51. Burnett worked with Pirates pitching coach Ray Searage to develop his two-seam fastball, which helped him increase his ground ball rate dramatically in front of the Pirates' shift-happy infield defense. It's not a mistake that Burnett has a 3.54 ERA in the last four seasons after making this transition.
Verlander may be on a similar career trajectory. He has experimented with a two-seam fastball in the past, but has primarily thrown a four-seamer throughout his career. It may be wise for him to consider a similar transition to Burnett if he cannot sort out his command through the end of this season.