Nick Castellanos is having a pretty disappointing sophomore year, so much so that most Tiger fans wanted him traded earlier in the season, or at the very least sent back to Triple-A Toledo. But what if he can become the next breakout Tiger like J.D. Martinez? What if there are early signs that he already is?
Nick is currently hitting .242/.291/.395 in 368 plate appearances so far in 2015. His 87 wRC+ is lower than the 94 wRC+ that he put up last year. His walk rate (6.5 percent) and strikeout rate (24.2 percent) remain consistent with last year's rates (6.2 percent and 24.2 percent respectively).
He is hitting for more power, though. Castellanos already has 10 home runs after hitting 11 all of last year and his .153 isolated power (ISO) is higher compared to the .135 mark he put up in 2014.
However, Castellanos is hitting much better of late. He has a 138 wRC+ in the month of July and is third on the team in home runs with six, only one behind J.D. Martinez and Yoenis Cespedes. Speaking of J.D. Martinez, there are some similarities between him and Castellanos as far as distribution of batted balls.
| | | | |
| --- | --- | --- | --- |
| Player | Pull% | Center% | Opposite% |
| Nick Castellanos | 34.7% | 37.4% | 28.0% |
| J.D. Martinez | 39.9% | 33.8% | 26.2% |
It becomes even more eerily similar when looking at their spray charts when batted ball data is included.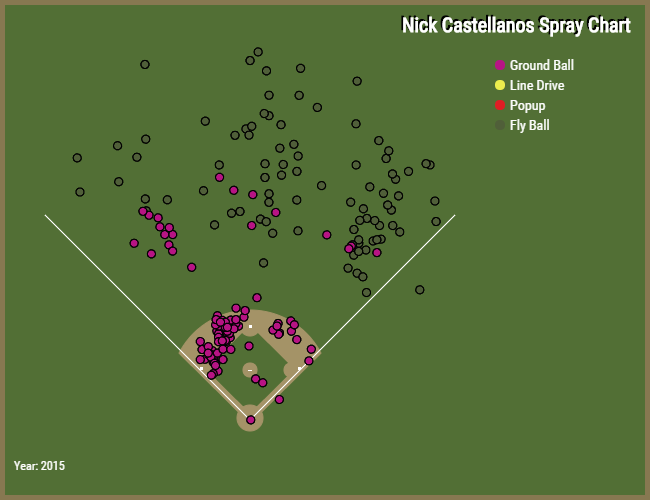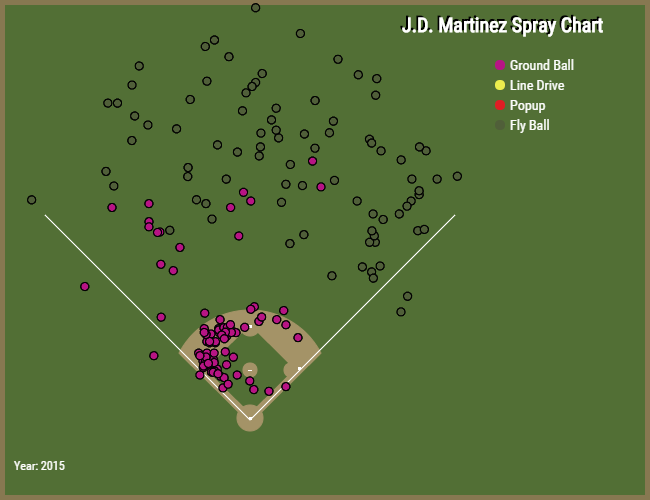 Both J.D. and Castellanos are pulling a majority of their ground balls and are hitting the majority of their fly balls the opposite way. In fact, according to FanGraphs, both J.D. and Castellanos are in the top five among the majority of fly balls hit the opposite way.
| | | |
| --- | --- | --- |
| Rank | Player | Fly Ball% |
| 1st | Chris Carter | 80.00% |
| 2nd | J.D. Martinez | 79.70% |
| 3rd | Lucas Duda | 79.00% |
| 4th | Trevor Plouffe | 78.80% |
| 5th | Nick Castellanos | 77.50% |
Now Nick's numbers going the other way (.304 AVG/.667 SLG) are not as good as J.D.'s (.368 AVG/.971 SLG). In fact J.D. leads the majors with a 270 wRC+ when hitting to the opposite field while Castellanos' 157 wRC+ isn't even in the top 30. There are still some things that Nick has to work on (such as with slider recognition). However, if Castellanos is working on the same approach as J.D. when it comes to hitting the ball to the opposite field, this could be an encouraging sign going forward as Martinez has been one of the better hitters in the league since the Tigers acquired him.