Amidst the disaster of the Detroit Tigers bullpen, Al Alburquerque is quietly having a very good season. In 51 2/3 innings, he has a 2.79 ERA and 8.5 K/9. Walks are still high with 4.2 BB/9 but he has nice ERA estimators with a 3.67 FIP and a 3.65 SIERA. This is the second year in a row that Alburquerque has had an ERA below 3.00. What has made Alburquerque so good has been an above average slider.
In his career, Alburquerque has thrown it about 61 percent of the time and opponents are only batting .166 against it. This year he has thrown it a little less often -- at around 56 percent of the time -- and opponents are batting .198 against it. So, what makes his slider so devastating? Well, that's not an easy question to answer.
Al Alburquerque's movement on his slider has not been consistent. In his first two years, the horizontal movement was around two inches. It has since been decreasing every year and right now it is at an average of just under one inch.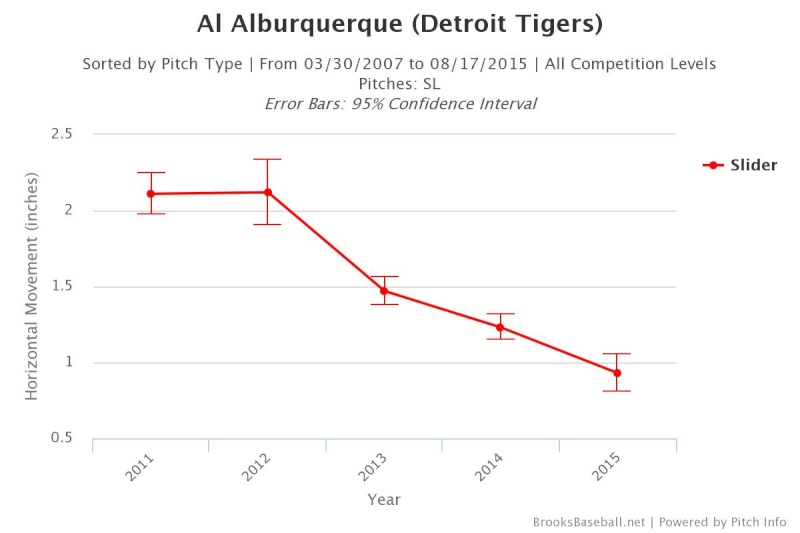 While his horizontal movement has been decreasing, Alburquerque's vertical movement on his slider has been increasing. In his first two years, it was under negative one inch of movement, but it has increased to a point of 2.36 inches of movement this year.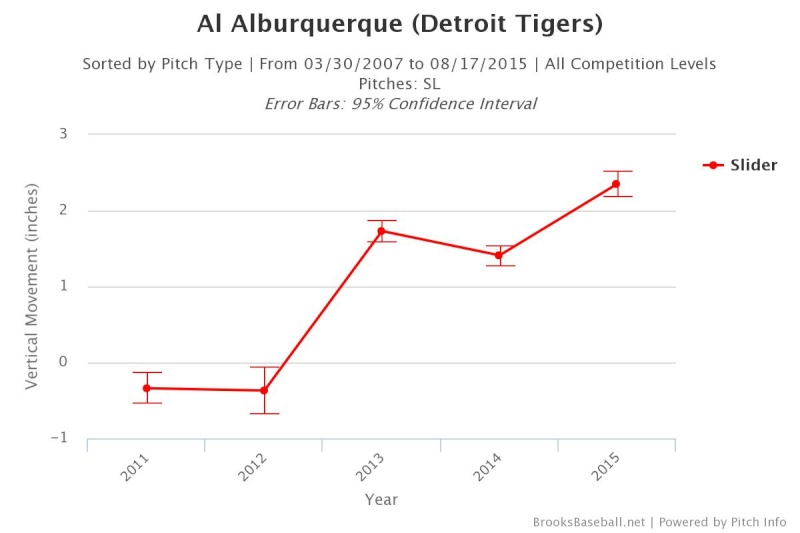 The sudden change in movement did not happen right away this year for Alburquerque. In April and May this season, Alburquerque's horizontal movement on his slider was between 1-2 inches. It wasn't until June that it went down to around a half an inch of movement and has steadily stayed there.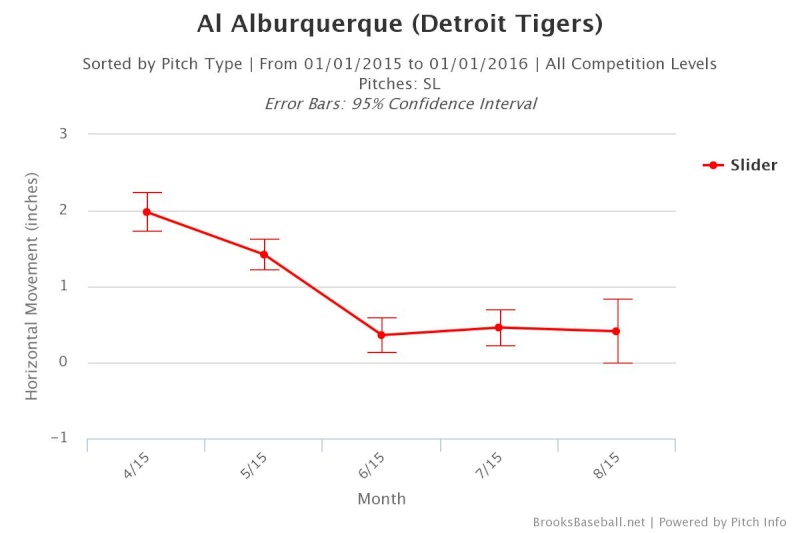 The same is true for the slider's vertical movement. In June it spiked up to around three inches and has stayed there for the next three months.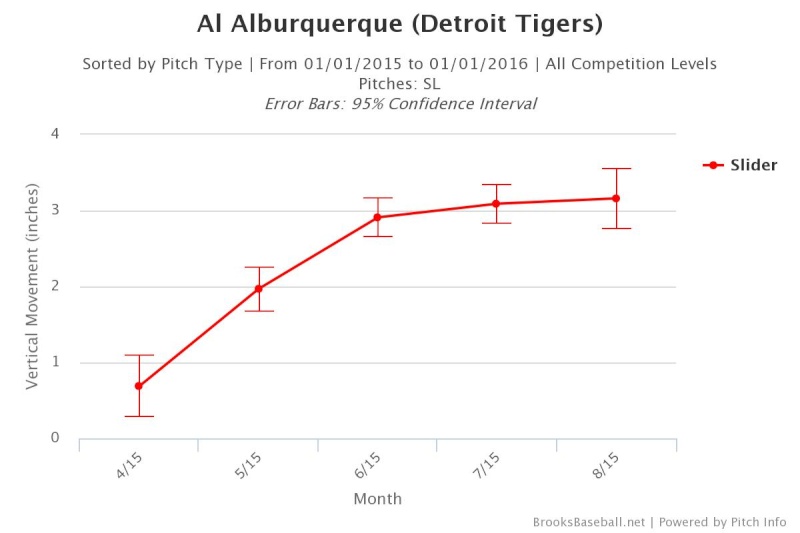 I'm not sure exactly what happened to have this dramatic change in his slider's movement, but I do know that it is working. Alburquerque struggled in April, allowing eight earned runs in eight innings, including three home runs and only five strikeouts. Since then, he has allowed eight earned runs in 43 2/3 innings for an ERA of 1.65 and just over a strikeout per inning. And opponents were hitting Alburquerque's slider better in April than in any other month.
| | |
| --- | --- |
| Month | Opponents Batting Average |
| April | 0.250 |
| May | 0.172 |
| June | 0.227 |
| July | 0.208 |
| August | 0.133 |
One thing of note here is that Alburquerque kept tweaking his slider, even though it was already a hard pitch to hit. That is what sustained success in the major leagues is all about: making adjustments. As hitters start to believe that they can hit his slider, Alburquerque makes an adjustment that causes it to move differently. Now it is the hitter's turn to make an adjustment.