Daniel Norris was the big acquisition in the David Price trade. Baseball America rated him the 18th best prospect in all of baseball going into the 2015 season, which should be an encouraging sign for Tigers fans who are broken-hearted about losing David Price. According to Brooks Baseball, Norris throws a four-seam fastball, a sinker, a changeup, a slider and a curveball, all of which have the potential of being average to plus pitches.
In five starts and 23 1/3 major league innings in 2015, command has been Norris' biggest concern. He has walked 4.18 batters per nine innings in 114 innings between the majors and Triple-A, the cause most likely being from a poor delivery. He is striking out 7.58 batters per nine innings and has a solid 3.57 FIP in 90 2/3 innings at Triple-A Buffalo.
It is a small sample, but Norris has shown encouraging signs in each of his pitches. Here is a breakdown.
Fastball
Norris has thrown his four-seam fastball 30.3 percent of the time in his five major league starts, pacing it anywhere from 91 to 95 miles per hour. Opponents are hitting .407 against it with two home runs and five doubles for a .407 ISO. He has two strikeouts, two hit by pitches and has only finished off one walk with it. It has been by far his most hittable pitch and it shows how his command is off. For example, Norris has been prone to miss his spots, like he does here to Alex Rodriguez. You can see where the catcher wanted the ball low and away, but Norris missed up over the plate.
Sinker
The sinker has been Norris' better fastball with opponents batting .250 against it, with three strikeouts and three walks. In terms of horizontal movement, the sinker has more movement, about 7.5 to 8 inches as opposed to the four-seamer that has movement of around 3-4 inches.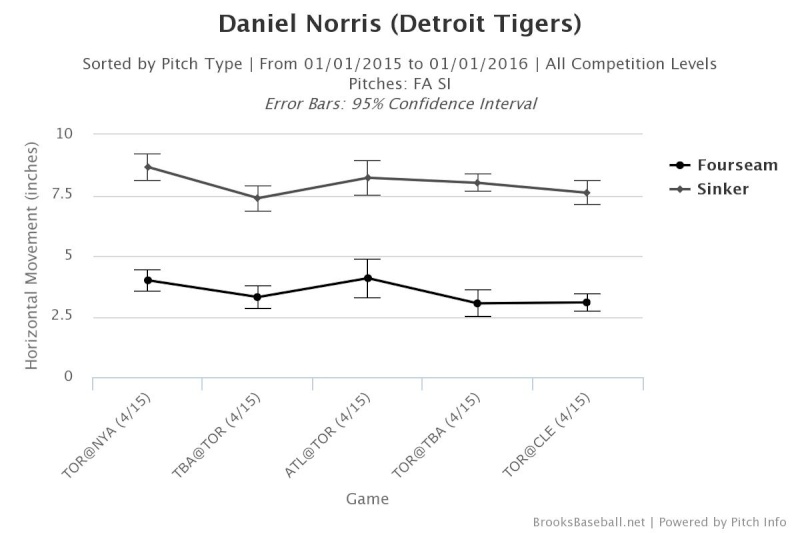 Changeup
Norris' changeup has been his out pitch, with 9 of his 18 strikeouts coming off of that pitch. Opponents have only been hitting .200 off of it in 20 at bats with a 21.98 percent whiff rate. However control has been a problem with four walks and one home run. On the 20-80 scouting scale, FanGraphs rates his changeup the weakest, currently at 45 with a potential of being 50+ (slightly above league average) in the future.
Slider
Norris has thrown his slider 18.9 percent of the time, but opponents are only hitting .250 against it, all singles with two strikeouts and four walks. Again, a high number of walks against it shows some control issues. His 83-85 mile per hour slider rates a 50 on FanGraphs' scouring rating with the potential of being 55 in the future.
Curveball
Several scouts claim that Norris' curveball is his best pitch, with FanGraphs giving it a rating of 55 with the potential of being a 60 in the future. However he has only thrown it 7.1 percent of the time in 2015. No one has gotten a hit off of it while two hitters have struck out on it.
Norris is only 22 years old, a highly regarded prospect and already has some Major League playing time. If pitching coach Jeff Jones can work on his delivery to make his command better, he will reach his full potential of a #2 starter. Tigers fans should be encouraged that the Tigers were able to get a cost controlled player that can not only help them in the future but right now, as Norris is being put in the rotation immediately.