At age 35, Victor Martinez had a career year with career highs in batting average (.335), on-base percentage (.409) slugging percentage (.565) and wRC+ (167). This year, however, those stats are now career lows (aside from slugging percentage by mere percentage points in 2008) since becoming a full-time player in 2004 (.241/.297/.367, 77 wRC+). Much of his struggles can be placed on coming back from injury too soon. During spring training, Martinez had surgery on his knee, but recovered in time by opening day and hit .216/.308/.270 before the Tigers placed him on the disabled list for a few weeks to let his knee fully heal.
When he came back it looked like everything was back to normal. He was hitting .333/.364/.603 with four home runs in his first 15 games back off the disabled list. However, it didn't last and now he is in an extended slump, batting .189/.232/.295 in his last 142 plate appearances.
Earlier in the season, Victor had extreme lefty/righty splits, batting .447 from the right side of the plate in the first half, prompting suggestions that he should abandon switch hitting for the time being and stay in the right side of the plate full time. There was good reason for this case, as he knee was bothering him more batting left-handed than right-handed. In the second half though, the splits are more even, and not in a good way.
| | | | | |
| --- | --- | --- | --- | --- |
| 2nd Half | AB | AVG | OBP | SLG |
| Vs. LHP | 35 | 0.229 | 0.250 | 0.286 |
| Vs. RHP | 108 | 0.185 | 0.237 | 0.324 |
| Total | 143 | 0.196 | 0.240 | 0.315 |
Martinez claims that he is healthy, per Matthew Mowery of the Oakland Press. And there's an argument to be made that he has been a little unlucky. During the second half of the year, V-Mart's batting average on balls in play is only .203 despite having a line drive rate of 18.9 percent. When Martinez hits a line drive, it's only falling in for a base hit 63 percent of the time, compared to last year's 70 percent batting average.
When batting left-handed, Victor Martinez likes the ball away from him, even as far as outside of the strike zone. Here's his hit chart from last season.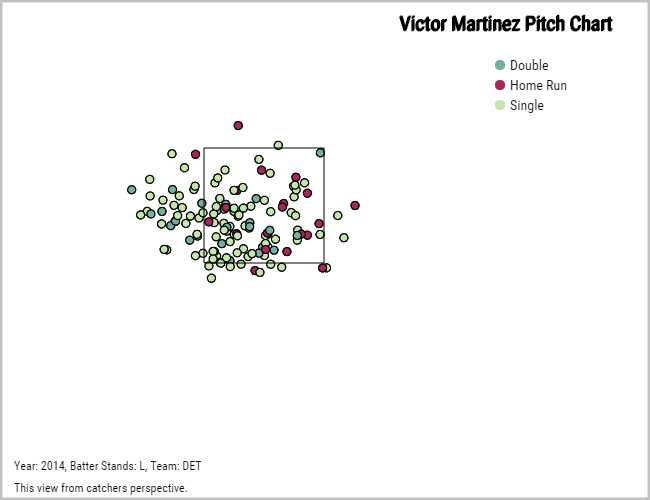 Compare that to his hit chart from this year.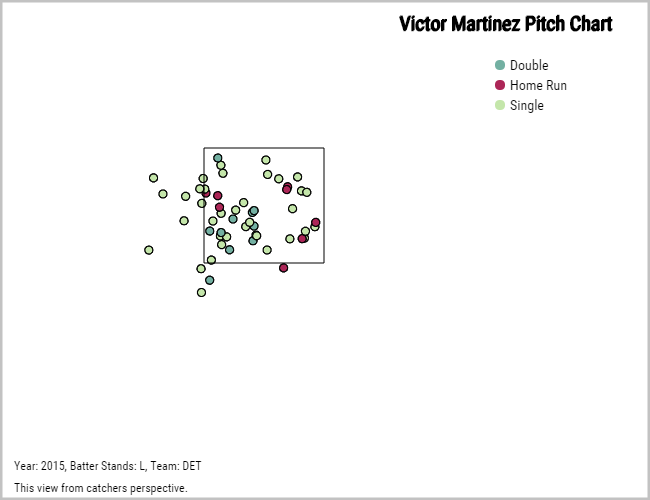 He is getting fewer hits from the outside area this year than he was in 2014. I decided to look at a few videos to see if I could notice any difference. The majority of the balls that he hits in this area are fastballs and I found two similar fastball locations, one from last year and one from this year.
Here is the 2014 pitch location, the result a home run.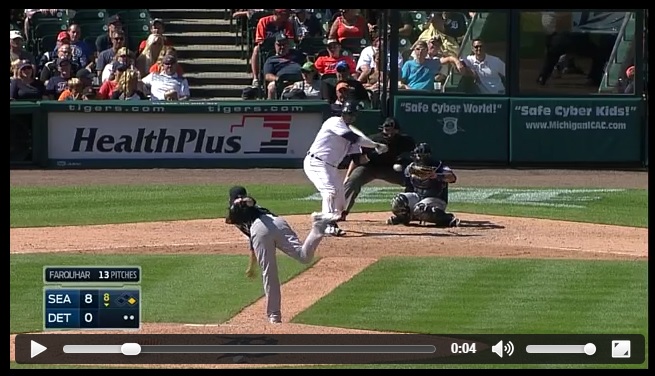 And the same pitch a few weeks ago against Houston, the result a groundout.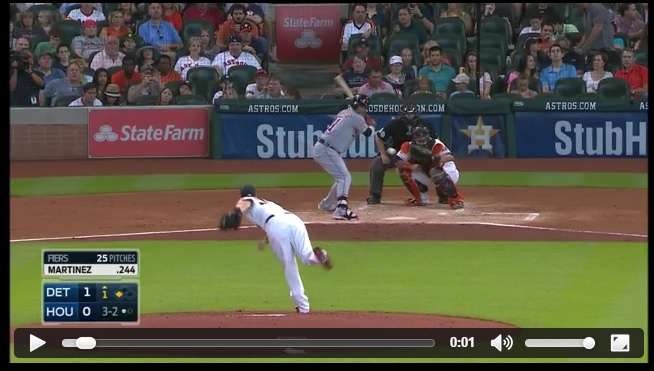 And here he is making contact on each pitch.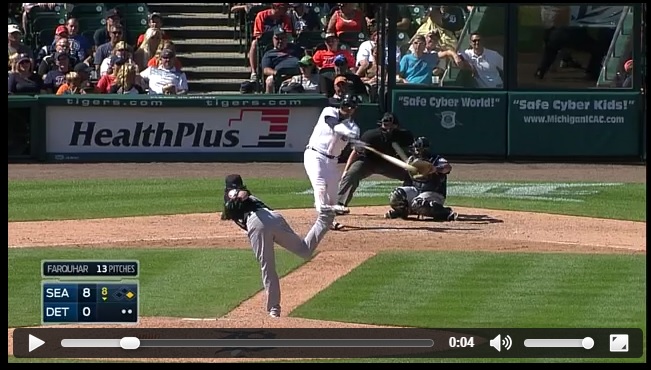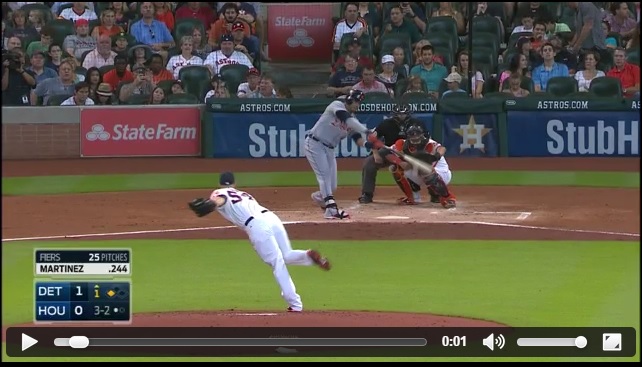 The only difference I can see is that he's late in his swing this year. This is only one example, but I would bet that's his biggest issue this season. V-Mart has shown signs of being late before, in the first half of 2013. Coincidentally enough, this is also the time where he just came back from injury, after missing the entire 2012 season. In the second half of that year, V-Mart batted .361/.413/.500 and then of course his career year in 2014.
The hard part in all of this is the age factor. V-Mart will be entering his age 37 season in 2016. Historically, players have fallen off a cliff after their age 35 season, natural age regression and all that. Victor Martinez has had some stints this year in which he was hitting the ball well, the two-weeks in June and also the two homer game on August 6. His timing has been inconsistent since coming off the disabled list and that might have more to do with getting older rather than recovering from injury. It is possible that he can get his timing back more consistently next year if he doesn't have any injury issues like before, but age may be finally catching up to V-Mart.