On September 9, Bruce Rondon blew his second save of the season. He issued two walks, a single and an error by leftfielder Rajai Davis allowed a run to score and tie the game in the ninth inning. The Tigers eventually went on the win the game in the 13th inning.
On Tuesday, Rondon allowed a run in a save situation before striking out Minnesota Twins rookie sensation Miguel Sano to end the game, notching his fifth save of the year.
The Tigers are trying to figure out if Rondon has what it takes to be a closer as they look towards next season. Rondon has battled injuries the last couple of seasons, including Tommy John surgery, so he only has a little more than 55 innings since he made his Major League debut in 2013.
For the 2015 season, Rondon has a 6.11 ERA with 36 strikeouts, two home runs allowed and 17 walks in 28 innings pitched. He has recorded five saves since the Tigers traded away Joakim Soria at the deadline. There could be some bad luck involved with the ERA, as his FIP is only 3.54 and his SIERA is 3.54.
Tigers manager Brad Ausmus criticized Rondon for throwing too many sliders and not enough fastballs in his latest blown save. From Anthony Fenech of the Detroit Free Press:
"If it's in a fastball count, they're more apt to hit it, so I think he's trying to take advantage of their aggressiveness in hitting the fastball in a fastball count," Ausmus said. "Now, I don't necessarily agree that he should throw a breaking ball in that count, but major league hitters, the vast majority of them, they're going to hit fastballs."
Rondon threw ten balls that night and seven of them were from his fastball. It was his lack of fastball command that hurt him, not his slider.
Fastball: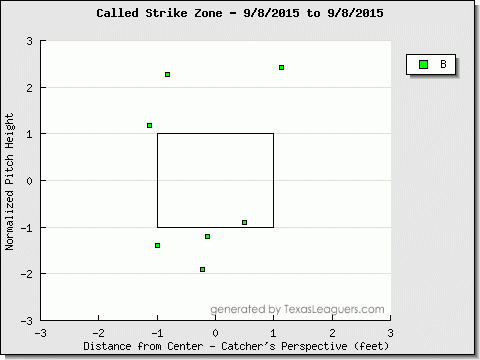 Slider: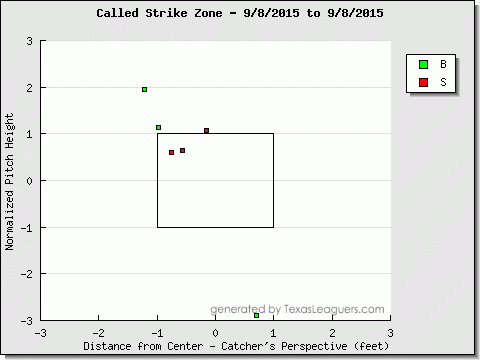 It was the two sliders that he missed up in the zone that hurt him. When he kept his slider down, it was a very effective pitch.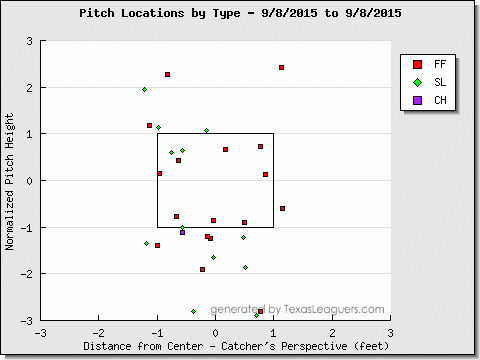 Rondon threw exactly one changeup that night and that was the one hit that the Rays got off of Rondon. It was the changeup, the error and lack of fastball command that ultimately did Rondon in that night.
Looking deeper into his stats, Bruce Rondon's slider has been an excellent pitch for him this season. In fact, According to Brooks Baseball, the last time a hitter got a hit off of his slider was on July 23. Since July 24, he has thrown his slider 95 time, resulting in 23 ended at bats with 16 strikeouts and zero hits. When a pitch has been that effective for a player, why not throw it more often?
And if that doesn't have you convinced, bear this in mind: Rondon struck out Sano on three pitches on Tuesday, all sliders.