Ian Krol has not been a good reliever for the Tigers over the last two seasons. In 2014, he had a 4.96 ERA and 1.68 WHIP in 32 2/3 major league innings. He allowed 11.6 hits per nine and posted a 5.18 FIP. This season, he has a 5.40 ERA and 1.69 WHIP in 26 2/3 innings. His hit rate has decreased to 10.1 hits per nine, and his 5.05 FIP is slightly better. The Tigers have demoted Krol to the minor leagues a total of five times over the last two seasons.
Krol was the worst Tigers' reliever according to fWAR in 2014, worth -0.6 wins. He has been slightly better this year, but still below replacement at -0.2 wins. His strikeout rate has gone up this year, from 18.2 percent to 21.3 percent, but he is also walking a lot more batters, over five per nine innings. However, the big difference this year is that it is clear that he is working on finding a pitch selection to get big league hitters out.
Before this year, Krol had been a three-pitch pitcher, throwing a four-seam fastball, a curveball, and a changeup. This year, he began throwing a slider at the start of the season. It has been his second-most used pitch this year with excellent results; opponents are only batting .206 against it with zero extra-base hits. Nine of his 24 strikeouts have resulted in the slider being the final pitch of the at-bat.
| | | | |
| --- | --- | --- | --- |
| Pitch | Usage | AB | BAA |
| Four-seamer | 48.3% | 32 | .406 |
| Sinker | 11.4% | 9 | .667 |
| Changeup | 7.3% | 7 | .429 |
| Slider | 23.0% | 34 | .206 |
| Curveball | 10.1% | 13 | .077 |
However, he didn't throw it often enough to get good results -- he posted a 4.76 ERA in six appearances -- and was sent down at the end of April. After a brief major league stint in June, Krol was recalled again on July 5. Here, he started experimenting with a sinker. Before this year, Brooks Baseball only registered one of Krol's pitches as a sinker, and that was probably a classification error. From July 6 to August 9, 20.6 percent of the 247 pitches Krol threw were sinkers. Unfortunately, this pitch didn't have the same effect as his slider and opponents hit .667 against it in nine at-bats, and he allowed a 5.25 ERA in 12 innings. Back to the drawing board.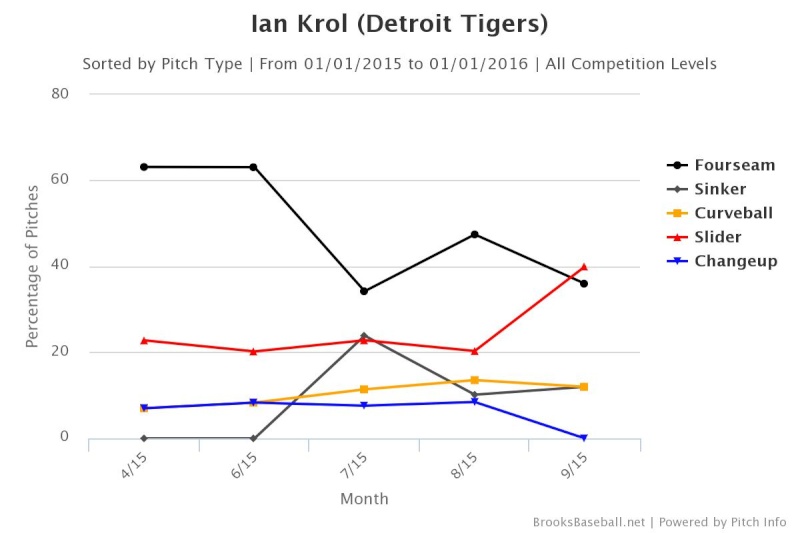 Krol was recalled once again when major league rosters expanded in September. So far this month, Krol has had terrific results. In 5 1/3 innings, Krol has yet to give up a run with four strikeouts and no hits. Once again, we can look at his arsenal and see a major difference. He has completely scrapped his changeup, while almost doubling his slider usage to 40 percent. He has all but become a two-pitch pitcher with his fastball and slider, only throwing his sinker and curveball three times apiece.
It has only been a handful of innings, but Krol's recent success gives a glimmer of hope for the bullpen going into next year. Relievers typically only need two pitches to be successful as they usually only face the lineup once through the order. Krol might have finally figured out that sometimes less is more and has focused on his two best pitches. It'll be interesting to see how well this selection works with a bigger sample size.