The 2016 season has been a completely different start of the season for Anthony Gose compared to last year. In 2015, Gose hit .357/.400/.520 through his first 25 games. Through 14 games this season, Gose is hitting .174/.255/.239. Gose's poor hitting has given Tyler Collins, who is normally a corner outfielder, more playing time in centerfield this year.
In fact, Gose hasn't really recovered from the cold spell that followed his hot start last season. In his last 433 plate appearances (including this season), Gose is hitting an anemic .222/.296/.319. It's hard to remain a major league player with those kind of numbers, let alone an everyday player, unless you're a defensive wizard.
To make matters worse, Gose's poor offensive numbers may be starting to affect his fielding, including two defensive flubs in Sunday's game against the Cleveland Indians. The Detroit Tigers are truly missing Cameron Maybin right now, who can't even stay healthy enough to get through a rehab assignment.
The problem, it seems, is that the pitchers have found a hole in Gose's swing and he has yet to adjust. Gose, a left-handed hitter, likes the ball inside. He is hitting over .300 on pitches on the inner half of the plate since 2015, but has struggled on pitches away.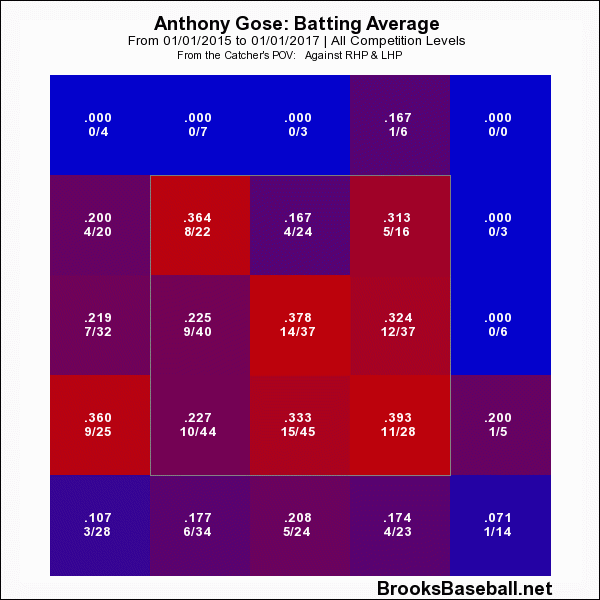 If you break up the strike zone into four quadrants, Gose prefers the ball low and in. This isn't unusual for left-handed hitters, who often drop their hands and let the bat flow through the strike zone, letting the pitcher supply all the power. Dating back to the beginning of last season, Gose has a .354 batting average in this area of the strike zone and a .247 batting average in the other areas.
It seems like pitchers have adjusted, though, and are simply pitching him away from that area.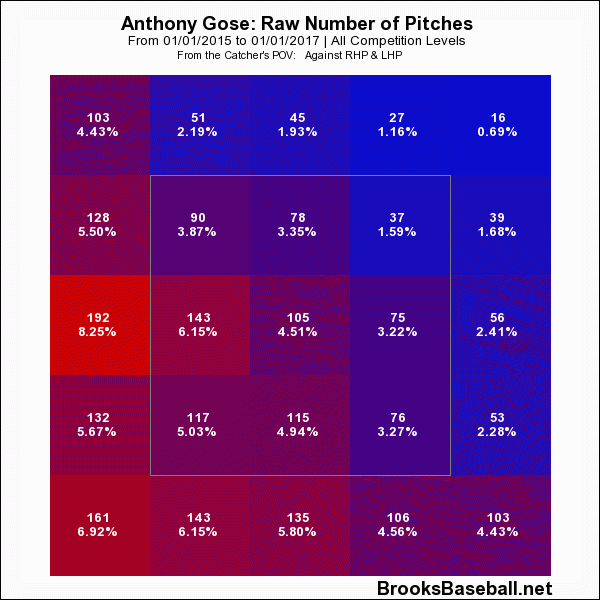 Since the start of 2015, pitchers have only thrown 15.94 percent of pitches in Gose's preferred quadrant. The "hot" areas for pitchers are mostly down and away, even out of the strike zone altogether. Pitchers have thrown 38.14 percent of pitches to Gose either in the outer half of the strike zone or outside of the zone down and away. To his credit, Gose has drawn walks at an 8.5 percent rate over the last couple of years, but the pitchers will gladly take that trade-off if it means below average overall production.
What's more troubling is that Gose seems to only be able to hit the fastball and nothing else. According to Brooks Baseball, Gose has hit .288 (95-for-330) on the three classifications of fastballs (four-seamer, sinker and cutter) and .168 on all breaking and off-speed pitches (33-for-197). Although he is seeing the same percentage of fastballs this year (around 63 percent) he isn't swinging at them as often, probably because they aren't in his "hot zone."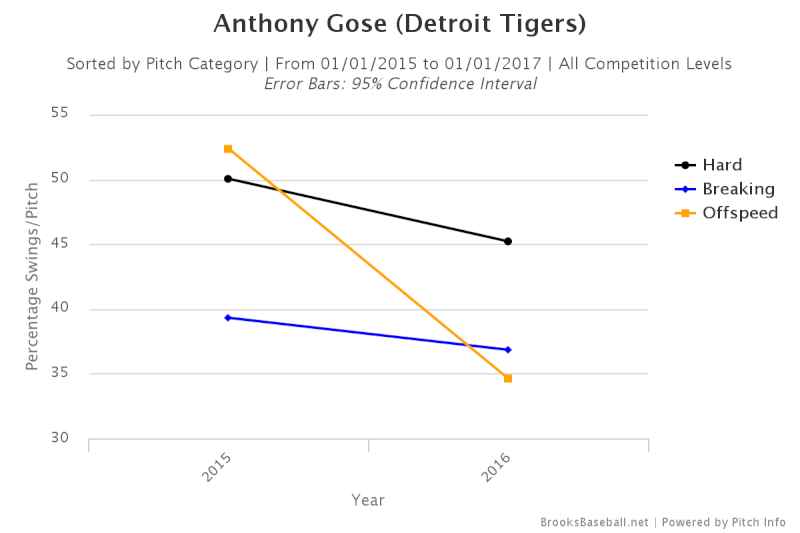 Gose is swinging at fastballs approximately 45 percent of the time in 2016, down about 5 percent from a year ago. The other noticeable drop-off in swing rate is on off-speed pitches, from about 52 percent in 2015 to only around 35 percent in 2016. Pitch recognition may not be an issue (if you can hit a pitch, don't swing at it) but it becomes a problem when you can't get hits off the pitches that you do swing at.
Pitchers have figured out Gose. They are throwing in areas that they know he can't hit and Gose has become an easy out for them. Again, it's encouraging to see Gose recognize and not swing at balls out of the strikezone that often (only about 24 percent this year, down from 30 percent last year). The pitchers don't care if they walk him, particularly because he's striking out often enough to outweigh the consequences of the occasional free pass to first base (and the Tigers aren't stealing bases this year, only three as a team, the lowest in all of baseball).
Now it is time for Gose to make an adjustment.