Righthander Michael Fulmer has made two starts for the Tigers, one decent, the other not so good. All together, he has pitched 10 major league innings this season with seven earned runs, 10 strikeouts, three walks, and two home runs.
While that comes out to a 6.30 ERA, there are some positives to take away from his starts. His .455 batting average on balls in play (BABIP) coupled with a 51.4 percent ground ball rate suggest that he has pitched better than his ERA indicates. Hitters have also swung at 30.9 percent of pitches outside of the strike zone against Fulmer, which shows he can get hitters to chase at pitches and rack up some strikeouts (and shows that his nine strikeouts per nine innings isn't a fluke).
However, there are also some areas that clearly need more development. In particular, Fulmer's changeup and sinker still need work. He has only thrown 15 changeups in his two starts, as it's still a work in progress. His sinker has been his most prominent fastball, at a near 40 percent usage rate. Hitters are hitting .550 against that pitch, though (11 hits in 20 at-bats).
| | | |
| --- | --- | --- |
| Pitch | Usage | BAA |
| Four-Seam Fastball | 22.7% | .250 |
| Sinker | 38.9% | .550 |
| Changeup | 8.1% | .500 |
| Slider | 30.3% | .200 |
Fulmer's slider, as advertised, has been his most dominant pitch. Opponents are batting just .200 against it, and six of his 10 strikeouts have come off the slider. His four-seam fastball has also been a pretty good pitch, topping out at 98 miles per hour.
In his most recent start, Fulmer surrendered four earned runs in the first inning, then settled down and only allowed one earned run the rest of the way. Fulmer threw his sinker over 40 percent of the time in the first inning, but then backed off of it and only threw it around 25 percent of the time the rest of the game. This is great maturity shown for a 23 year old pitcher. He (or his catcher and coaching staff) understood that his sinker wasn't working and adjusted accordingly.
At first, I thought Brooks Baseball was incorrectly categorizing his four-seam fastball as a sinker at times, but their respective movement profiles indicate that they are clearly two different pitches.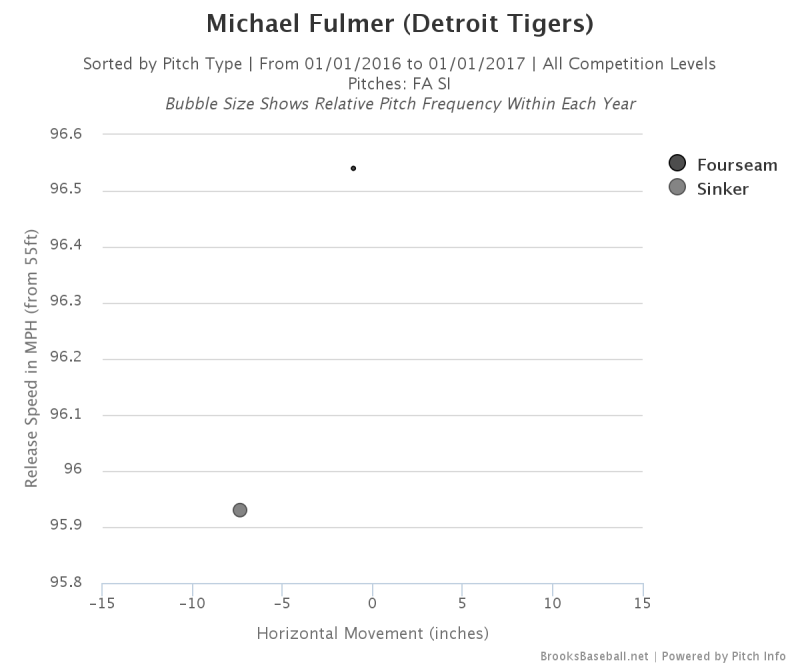 Fulmer has thrown his sinker as fast as 97.2 miles per hour this season. That is extremely fast for a sinker, but Fulmer appeared to be amped up in his first start. Usually, when a sinker is that fast, it hangs and doesn't move. However, he is getting about seven and a half inches of horizontal movement on his sinker while his four seam fastball is pretty straight, creating a nice differential between the two pitches.
In the meantime, it might be a good idea for Fulmer to use his slider even more, as it is clearly his best pitch. Teammate Jordan Zimmermann and Fulmer's next opponent, Joe Ross of the Washington Nationals, have been throwing their slider around 35 percent of the time this year.
Ross, like Fulmer, also utilizes a fastball, slider, and changeup combination, with the slider being his best pitch. Ross has had good success in his young career and has done so by aggressively throwing his slider in two-strike counts, about 61 percent of the time this year. Fulmer has only done so about 33 percent of the time. After the first inning of his last start, Fulmer threw his slider 38 percent of the time, so he might have already made this adjustment.
When a pitch is that fast and has that kind of movement like Fulmer's sinker, usually hitters don't stand a chance at hitting it. Which means that he is either tipping his sinker or he has no idea where it is going and can't command it. Ufortunately, the Tigers' starting rotation (outside of Jordan Zimmermann) is struggling pretty bad right now, so for the time being Michael Fulmer will have to try to develop a changeup and sinker at the Major League level instead of Triple-A. The good news is that his slider is already Major League ready, so he can still be successful even with a couple of pitches lacking development.