The Tigers took a gamble when signing Mark Lowe to a two year, $11 million contract as part of the revamped bullpen that also included Francisco Rodriguez and Justin Wilson.  Lowe had an outstanding season in 2015, with a 1.96 ERA, 2.57 FIP, and 1.05 WHIP -- all career bests -- in 55 innings for the Mariners and Blue Jays. His strikeout and walk rates were also the best of his 10-year career.
Before his breakout season, Lowe was a below average relief pitcher with a 4.15 ERA and 4.26 FIP. He bounced around four different teams between 2006 and 2014, and spent most of 2013 and 2014 toiling in the minor leagues. Then he found success back with Seattle and later Toronto in 2015.
So far this year, Lowe has been a disappointment as the Tigers' main right-handed setup man. He has an 8.76 ERA, 7.06 FIP and only nine strikeouts in 12 1/3 innings pitched. Most of the damage has come in his last few outings: seven earned runs, including three home runs, in two innings over his last three games (including two losses).
Lowe's fastball history
Lowe is a two pith pitcher with a four-seam fastball and a slider. Earlier in his career he threw a changeup before abandoning it in 2013. Lowe's slider has always been an outstanding pitch for him, but his success came with an improved fastball.
Earlier in his career, Lowe had an above average fastball in terms of velocity, ranging from 95-97 miles per hour. Then it started to dip in 2012, most likely due to his injury history as well as natural age regression. However, the velocity returned again in 2015.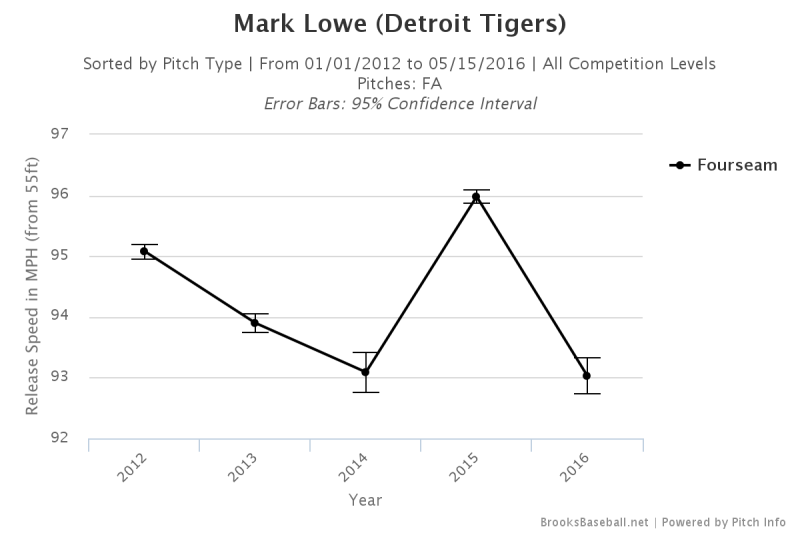 Mark Lowe's average fastball velocity in 2015 was 96 miles per hour, and topped out at 99 mph. So far in 2016, Lowe's fastball has only averaged 93 miles per hour with a max velocity of 97, about the same as it was in 2013. Opponents are swinging at the fastball about the same rate as last year, 45-47 percent. However, at a slower speed, they are making more contact.
The 2014 season could be ignored as Lowe only pitched seven major league innings. In 2015, opponents whiffed on the fastball at a rate of almost 20 percent of their swings. That rate is down to only five and half percent in 2016, even lower than it was in 2012 and 2013, when Lowe was a replacement level pitcher.
The result? More damage.
Again, the 2014 season can be ignored. Over the previous two seasons (2012 and 2013), opponents posted an isolated power (ISO) of .220 on his fastball. For context, Joey Votto had a .228 ISO last year. Lowe's ISO on his fastball dropped to around .100 in 2015, but it has regressed to .500 so far in 2016. Obviously, small samples are inflating this number -- Monday's walk-off home run did not help -- but it is clear that his fastball has not been as good of a pitch for him as it was in 2015.
What does this mean for Lowe?
The best solution right now is to stop using Lowe in high leverage situations. Unfortunately with the entire bullpen struggling at the moment, the same can be said for just about any one of the Tigers' relievers. The numbers suggest that Alex Wilson (4.63 ERA/2.31 FIP) and Justin Wilson (4.50 ERA/2.15 FIP) may have been unlucky so far, as their FIP is better than their ERA. For right now, however, they are the best options for the setup men and Mark Lowe can take a step back and try to regain his 2015 fastball in less pressured situations.